My Blog
Posts for: June, 2018
By Smiles by Bigelow
June 20, 2018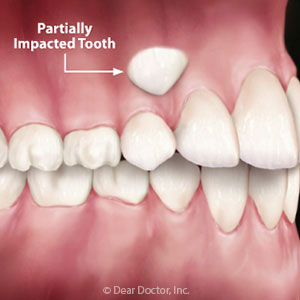 Children's permanent teeth normally erupt over several years after first forming below the gum line. All their permanent teeth should come in by the time they reach early adolescence.
Unfortunately, this process doesn't always happen as it should. If the erupting teeth become crowded due to a poor bite (malocclusion), teeth still to come in may not have enough room to fully erupt. They become impacted, a condition in which the visible crown remains partially or completely submerged below the gum line.
Impacted teeth create consequences for other teeth and dental health overall. They more readily cause abscesses (a localized infection within the gum tissue) and can damage the roots of nearby teeth. Impacted front canine (eye) teeth can interfere with bite function and their visual absence mars an otherwise attractive smile.
If your child's canine teeth have failed to erupt properly, there is a way to help them fully come in if you act before their mouth structure fully matures. The first step is an orthodontic evaluation of their entire bite. This will determine if there's enough space to move other teeth to make room for the impacted canines.
If so, we would then find the exact position of the impacted teeth using x-rays and possibly cone beam CT scanning for a detailed three-dimensional image. The teeth could be in a variety of positions, such as angled toward the roof of the mouth or cheek or buried high in the jawbone. If the teeth are too far out of position the best course of action may be to remove them and replace them later with a dental implant.
If the impacted teeth, though, are in a feasible position for retrieval, we first expose each tooth through the gums with a minor surgical procedure and bond a small bracket to it. We then attach a small gold chain to the bracket that loops over an orthodontic appliance attached to other teeth. The appliance will exert pressure over several months to pull the tooth into proper position.
If successful, your child will gain the use of these important teeth and a more attractive appearance. But don't delay — this desired outcome will become much harder if not impossible to attain as their teeth and jaws continue to develop.
If you would like more information on treating impacted teeth, please contact us or schedule an appointment for a consultation. You can also learn more about this topic by reading the Dear Doctor magazine article "Exposing Impacted Canines."
By Smiles by Bigelow
June 10, 2018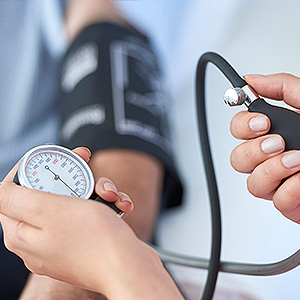 You may have been surprised by a new addition to your regular dental appointment routine—we took your blood pressure at the start. While you might expect this at a medical clinic, it seems unusual at the dentist's office.
But not anymore: blood pressure checks at dental offices are quickly becoming routine, including during regular cleanings and checkups. Here are 3 reasons why checking your blood pressure is now part of your dental visit experience.
Your blood pressure could be an issue during dental work. While we do everything possible to make you comfortable, undergoing dental work can create stressful feelings. Blood pressure normally increases when stress occurs, including before dental procedures. If you already have issues with hypertension (high blood pressure), any circumstance that might increase it could lead to health problems or even an emergency like a stroke. If your blood pressure is high, we may forgo any planned procedures and refer you to a physician for further examination.
Local anesthesia can affect blood pressure. Local anesthesia is an important part of dental work—without it we couldn't provide maximum comfort during procedures. But many anesthetics include epinephrine, which helps prolong the numbing effect. Epinephrine also constricts blood vessels, which in turn can elevate blood pressure. We may need to adjust the anesthesia drugs and dosages we use in your case if you have high blood pressure.
It could save your health—and your life. The symptoms for hypertension can be subtle and often go unnoticed. A blood pressure screening check is often the first indication of a problem. That's why blood pressure screenings in a variety of healthcare settings are so important. A routine blood pressure check at your dentist (who hopefully sees you at least every six months) is one more opportunity to find out. Discovering you may have high blood pressure is the first step to controlling it and hopefully avoiding more serious conditions like diabetes or cardiovascular disease.
If you would like more information on monitoring vital signs during dental visits, please contact us or schedule an appointment for a consultation. You can also learn more about this topic by reading the Dear Doctor magazine article "Monitoring Blood Pressure."