My Blog
Posts for tag: cosmetic dentistry
By Smiles by Bigelow
September 18, 2018
It is possible to close the gaps in your smile permanently with dental implants. Dental implants are inserted into the jaw bone and act as replacement roots for missing teeth. Crowns or bridgework function as replacement teeth and are securely anchored in place by the dental implants. A dentist can help you decide if dental implants are the right tooth replacement option for you. At Smiles by Bigelow, Dr. Tod Bigelow is your dentist in Hattiesburg, MS for dental implants.
What are Dental Implants?
Dental implants are hypoallergenic metal posts that are placed into the jaw bone and function as a replacement tooth root where natural teeth are missing. Over time, the metal implant fuses with the jaw bone through a natural process known as osseointegration. Once the implant and bone have fused together, the dental implant will remain securely in place. Further, fusion of the two provides additional support for the bone, which can deteriorate following the loss of natural teeth.
After dental implants have completely fused with the jaw bone, they can be topped with artificial teeth. Two options for replacing missing teeth in conjunction with dental implants include dental crowns and bridgework. Crowns are often used to replace individual teeth that are missing, while bridgework is used to simultaneously replace multiple missing teeth. Your dentist can advise you as to whether crowns or bridgework are the right option for capping your dental implants.
Benefits of Dental Implants
There are several benefits to choose dental implants to close the gaps in your smile. When there are gaps due to missing teeth, there are fewer teeth to share the work of biting and chewing food, which can put additional strain on surrounding teeth. Missing teeth also mean less support for facial muscles, which can result in sagging of the face. Speech can also be affected as the placement of the tongue when speaking is altered by the gaps from missing teeth.
Your Hattiesburg dentist for dental implants can help you decide if they are the right choice for you. Some of the benefits of dental implants include:
Restore your smile
Hypoallergenic
Durable and long lasting
Evenly distribute biting and chewing functions across teeth
Alleviate the extra strain on surrounding teeth
Provide support for sagging facial muscles
Restore the natural contours of the face
Improve speech by correcting tongue placement when speaking
It is possible to finally close the gaps in your smile once and for all with dental implants. For dental implants in Hattiesburg, MS schedule an appointment with Dr. Bigelow by calling Smiles by Bigelow at (601) 582-1623.
By Smiles by Bigelow
July 20, 2018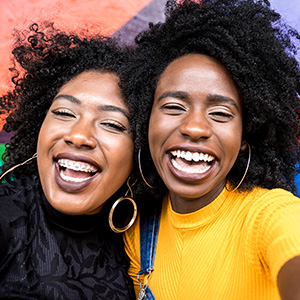 June is the month when lots of important events happen—like weddings, graduations, and family get-togethers. When the weather turns balmy and the days get longer, it's the perfect time for a celebration…and today it's easier than ever to capture those special moments in pictures that will be treasured for years to come. Are you ready for your close-up?
Both professional photographers and dentists want to help you look your best when you're smiling for the camera. Here are a few suggestions from both kinds of pros for capturing a great-looking smile.
Tilt your head just a bit
Instead of looking straight at the camera, try turning or tilting your head slightly. This often presents a more flattering angle, and can hide small facial asymmetries. If your face has a "good side" (you can check by looking in a mirror), be sure to make it visible. But even if your head is tilted or turned, your eyes should be looking at the camera.
Moisten teeth before the shutter clicks
A sparkly smile is the most appealing one. Just before the picture is snapped, run your tongue over your teeth to give them a little extra shine. Highlights in the teeth, lips and eyes add liveliness to your portrait.
Relax—Don't clench your teeth!
It's better to smile naturally—perhaps with teeth slightly parted, or lips in a more relaxed position—than to force yourself to make an artificial-looking grin. Try recalling things that make you joyful, or think of people you care about, and chances are your natural smile will shine out.
Have your teeth professionally cleaned at the dental office
Before the big event, you can ensure that your smile looks its best with a professional cleaning at our office. This treatment removes layers of plaque and tartar on visible tooth surfaces, as well as between teeth and under the gumline. It not only makes teeth look their best, but it's also an effective way to fight tooth decay and gum disease. And while you're here, it's the perfect time to talk about any cosmetic issues that may be troubling you about your smile. With treatments like teeth whitening, cosmetic bonding or dental veneers, we can help you get the smile you've always wanted.
If you would like more information about professional teeth cleaning or cosmetic dentistry, please call our office to schedule a consultation.
By Smiles by Bigelow
November 03, 2017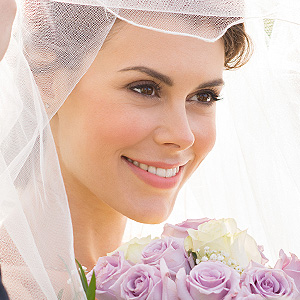 Congratulations—you're engaged! It's a stupendous (and hectic) time in your life as you plan your upcoming wedding.
You want to look your best for the big day—which means you may be dieting, exercising or making changes to your hairstyle and makeup. Be sure, though, to consider another important part of your appearance—your teeth and gums. Here are a few options that could help your wedding day smile shine even more.
Cleanings and whitening. While dental cleanings are primarily about removing disease-causing plaque and tartar they can also give your teeth that clean and polished look. And if you want an extra boost in brightness, consider whitening—we may be able to lighten up your teeth's stain-induced dullness.
Bonding. If your teeth have slight imperfections—chipping, slight gaps or staining that doesn't respond well to whitening, consider bonding techniques to repair or cover these defects. Composite resin is a dental material that can be shaped and bonded to teeth to reform a deformed tooth—and with color matching as well. For more extensive defects you can cover the front of imperfect teeth with bonded porcelain veneers or completely cap a tooth with a custom crown.
Tooth restorations. If you have missing teeth marring your smile, you have several options. The top choice: dental implants, which replaces the root of the tooth and will be able to have a crown attached to it. An implant can thus restore both better function and appearance. For more affordable options, you can also turn to fixed bridges or removable dentures. The latter can be custom designed to replace all the teeth on a jaw arch or just a few in different locations.
Gum enhancements. Teeth aren't the only part of your smile that might need a helpful touch—your gums' appearance might also be a problem. There are cosmetic procedures including plastic surgery and tissue grafting that can help correct overly prominent "gummy" smiles or, at the other end of the spectrum, longer appearing teeth because of gum recession.
Orthodontics. If you have extended time before the wedding date, we may be able to correct crooked teeth or a poor bite (malocclusion) that's adversely impacting your smile. In some cases, you may be able to choose clear aligners, removable plastic trays that are hardly noticeable to others, over more visible braces to correct your bite.
If you would like more information on cosmetic dentistry for lifetime events, please contact us or schedule an appointment for a consultation.